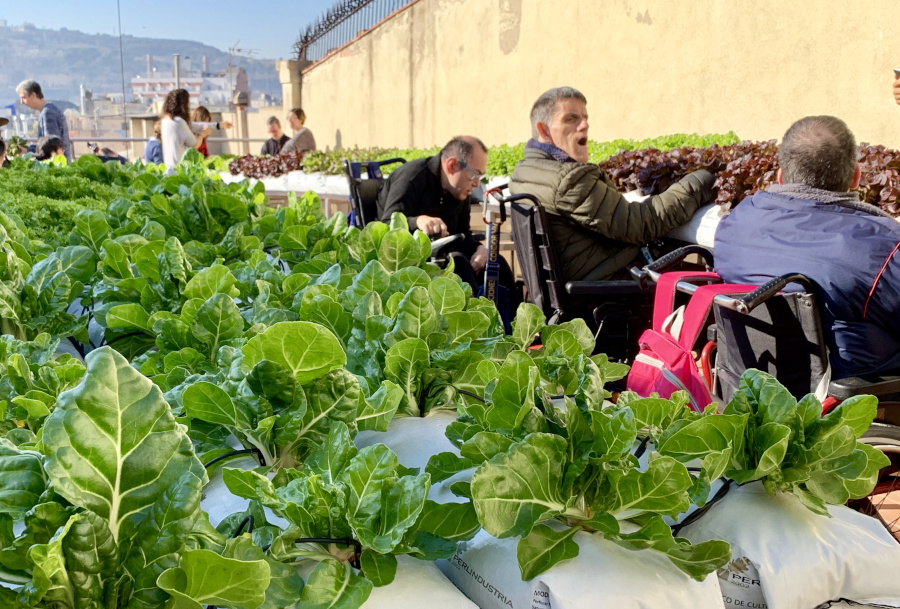 Focus Experience #31
The 'Rooftop Allotment' project of the City Council of Barcelona, in addition to contributing to the increase of green spaces in the city, it puts special emphasis on promoting groups of people with various disabilities or mental health problems.
The pilot project came to light in 2016 at the building of the Municipal Institute for People with Disabilities, the organisation responsible for the experience, in partnership with the Institute of Agri-Food Research and Technology (IRTA, from the Catalan acronym) and three occupational centres for people with disabilities. There are currently five urban allotments in operation on the rooftops of various municipal buildings, run by about 120 people from 6 social organisations. One of these allotments is located precisely in the building that houses the headquarters of the International Association of Educating Cities.
What's more, surplus produce – initially earmarked for the participants' own consumption – is delivered to vulnerable groups (soup kitchens, food banks, etc.), thereby fulfilling a social function while also fostering the idea of locally-sourced consumption. The participants themselves are responsible for making the donation, which makes it easier for them to experience the whole cycle at first hand.
The project has shown remarkable benefits in the quality of life and personal development of people with disabilities. The rooftop allotments have become a space for coexistence, inclusion and learning for these people, while also being a green space that encourages sustainable agriculture.
News Search
By category
By keyword
By date