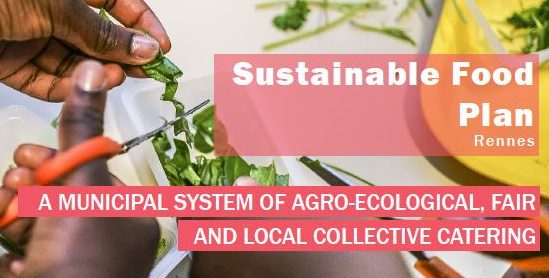 Focus Experience 35
A municipal system of agro-ecological, fair and local collective catering that aims at promoting a balanced diet, consistent with the principles of sustainable development and based on a strong link between producers and consumers.
The City of Rennes is committed to a municipal catering model that is underpinned by local agroecological production, the prevention of food waste and the reduction of greenhouse gases.
Since 1999, Rennes' municipal kitchen has centralised the preparation of meals served by various municipal services. Around 12,500 meals are prepared every day, 10,000 of which are allocated to its 48 municipal schools. Thanks to a firm commitment to foster short supply chains, the city has managed to ensure that around 80% of suppliers are local producers (15% of which are BIO certified). However, a national law passed in 2018 establishes that, as of January 2022, 50% of the food products used in collective catering must be sustainably produced.
Within this context, several difficulties have been identified with regard to the achievement of the required sustainability indicators, such as: the legitimate cost overrun of sustainable and organic food production, The imbalance between the needs of the municipality and those of producers, and the detection of practices that generate food waste.
In order to address this situation, since 2016 the local government has promoted the formulation of a Sustainable Food Plan, developed through a participatory approach among different municipal departments, agricultural producers, distributors, social institutions and citizens. The aim of the Plan is to foster the necessary actions to ensure that, by the end of 2020, the municipal catering system guarantees: 20% of products procured from sustainable agriculture, 20% of products with a BIO certification, and a 50% reduction in food waste.
News Search
By category
By keyword
By date