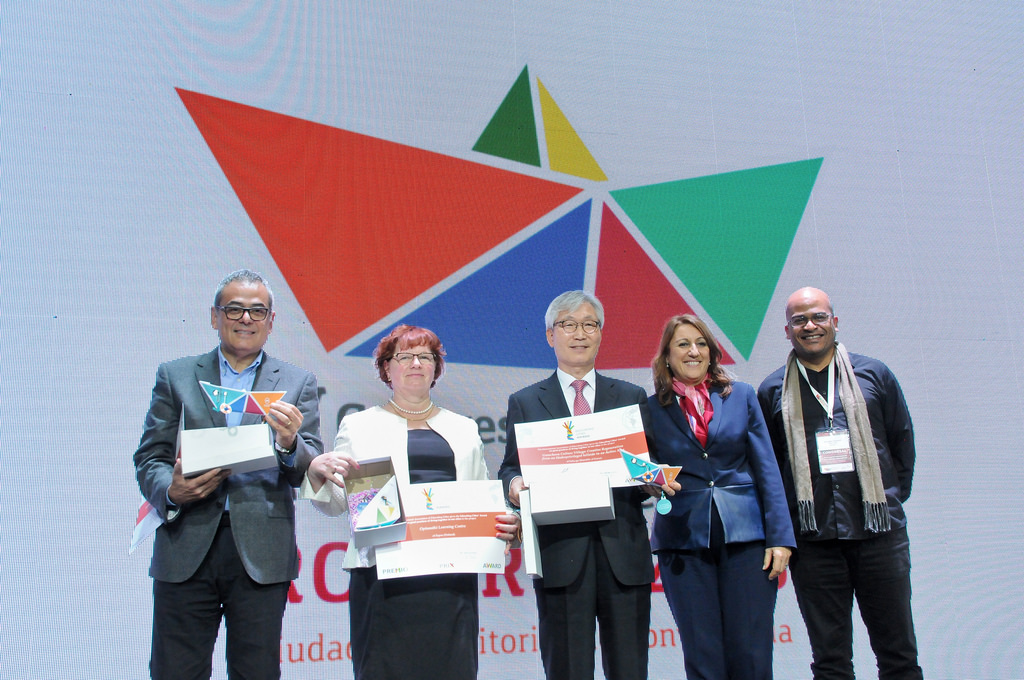 Educating Cities' Award Ceremony
Espoo (Finland), L'Hospitalet de Llobregat (Spain) and Saha-gu (South Korea) received the Educating Cities' Award on good practices for better living together in our cities last June the 4th during the 14th IAEC Congress held in Rosario.
The Educating Cities' Award Ceremony began with two speeches of the IAEC delegated President and Commissioner for Education and Universities of Barcelona, Mr. Miquel Angel Essomba, and the President of the Jury and Mayor of Rosario, Ms. Mónica Fein. Both focused its speech on explaining the motivation of the Award the subject of the first edition of the Award, living together in our cities.
Then, the awarded cities (Espoo, Hospitalet de Llobregat, Saha-gu) presented their good practices.
The first to do so was the Directress of Education Espoo, Ms. Kaisu Toivonen, who presented the process of creation of the Learning Center Opinmäki which was shared with local citizenship. Besides, she talked about the flexibility of use of the center and the planning of activities aimed at audiences of all ages.
Then the Deputy Mayor for Culture and Education of L'Hospitalet de Llobregat, Mr. Jaume Graells, presented the project Boosting service-learning in the city as a tool for living together, social cohesion and participation and specifically highlighted aspects of the project such as its contribution to the opening of schools, to the integration of immigrant students, to the formation of an active and responsible citizens and strengthening of bonds between youth and residents of the city.
Finally, the Mayor of Saha-gu, Mr. Kyung-Hoon Lee, presented the Gamcheon Cultural District: a creative project that regenerated an underprivileged area into a cultural neighborhood; a project that had the participation of its people and strengthen their sense of belonging to their neighborhood.

The ceremony ended with a family photo of the awarded cities' representatives.
See again the Award Ceremony (01:12:15).

For further information as regards the awarded good practices consult the Award special edition of the Bulletin we issued.
News Search
By category
By keyword
By date