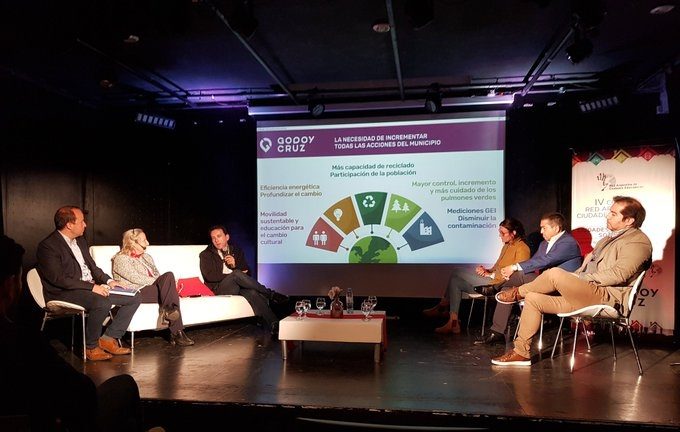 4th Congress of the Argentinian Network
Godoy Cruz hosts the 4th Congress of the Argentinian Network (RACE) on 30-31 May, with the theme 'Sustainable Cities and Communities'.
The cities of Alcira Gigena, Armstrong, Coronel Moldes, Cosquín, Esquel, General Alvear, General Cabrera, Godoy Cruz, Malargüe, Morón, Pilar, Río Cuarto, Rosario, San Justo, Villa Constitución and Villa Reducción attend the Congress.
The meeting takes place at the Library/Resource Center Manuel Belgrado.
The main axes of the Congress are:
Sustainable Cities: educating local policies that foster equity, equal opportunities for all and a sustainable urban life.
Sustainable Communities: a democratic inclusive and environmentally friendly governance, that reinforces citizen participation and living together.
Education, Environment and Innovation: promotion of a creative education that makes sustainable development real.
The event starts with an information session for those cities that wish to join the Argentinian network. The opening of the Congress and a Round Table of Mayors follows. In the afternoon there is a presentation of experiences related to sustainability (axis 1).
In the framework of the General Assembly, the city of Río Cuarto is elected new coordinator of the network, and San Justo, deputy coordinator. The cities of Godoy Cruz and General Alvear, together with the IAEC Delegation for Latin America are appointed as new Coordination Committee. The Committee is supported by Alcira Gigena and Cosquín as partner members. The first day of the Congress ends with the conference 'City, education and democracy: a sustainable government programme in the 21st century', by Dr. Gerardo Ardila Calderon.
The city of León-Guanajuato (Mexico) has been invited to participate as an international guest, presenting the project 'León Metropolitan Park: the role of urban parks in tackling climate change'. The second day of the meeting also includes tables of experiences regarding axes 2 and 3 ('Sustainable Communities' and 'Education, Environment and Innovation'). In the afternoon participants can participate in a study visit to the project 'Technology and Environment Circuit'. The 4th Congress of the Argentinian network concludes with a closing cerimony.
Click here for more information.
News Search
By category
By keyword
By date
Recent News
Follow our Twitter
Twitter feed is not available at the moment.