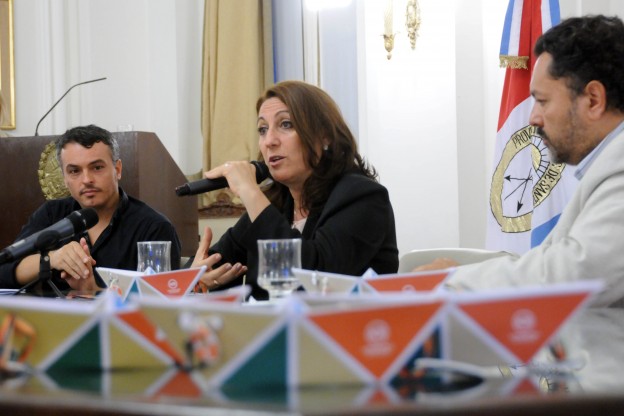 © Municipalidad de Rosario
Open letter of Ms. Mónica Fein, Mayor of Rosario
The Mayor of Rosario, Ms. Mónica Fein, invites member cities to participate in the 14th IAEC International Congress which will take place in Rosario (Argentina) next June 1-4 2016.
As Mayor of the city of Rosario, Argentina, I am pleased to inform you that our city will host the 14th International Congress of Educating Cities organized by the Municipality of Rosario and the International Association of Educating Cities (IAEC), next June 1-4 2016.
Rosario joined the IAEC in 1996, when we embraced the principles of the Educating Cities Charter as a contribution to build a better city and specifically to share experiences with cities around the world working for this common purpose.
In our societies, knowledge and education are crucial for development and social inclusion. Therefore, the local administration, as a leader of territorial strategic goals, promotes a broad, comprehensive approach on education, convinced that an educating city is the driver for personal and collective development, equality, peaceful coexistence and solidarity.
Hence, the 14th Congress will explore the theme "Living together in our cities" and the exchange of ideas and debates will be articulated around three main topics/challenges:
The challenge of building cities
The challenge of equality in cities
The challenge of living in cities
These topics/challenges will be explored in different Roundtables with well-known international experts and the dissemination of public policies from different cities. Along this way, there will be debates on the educating role of cities and exchanges of good practices on peaceful coexistence. Therefore, I take this opportunity to invite you and encourage you to come and show positive experiences being implemented in your own city.
It will be an honor for us to have you; your attendance will add value to the 14th Congress.
Hope to see you in Rosario!
Mónica Fein, Mayor of Rosario
Pesquisa de Notícias
Por categoria
Por palavra-chave
Por data
Siga nosso canal oficial no Twitter