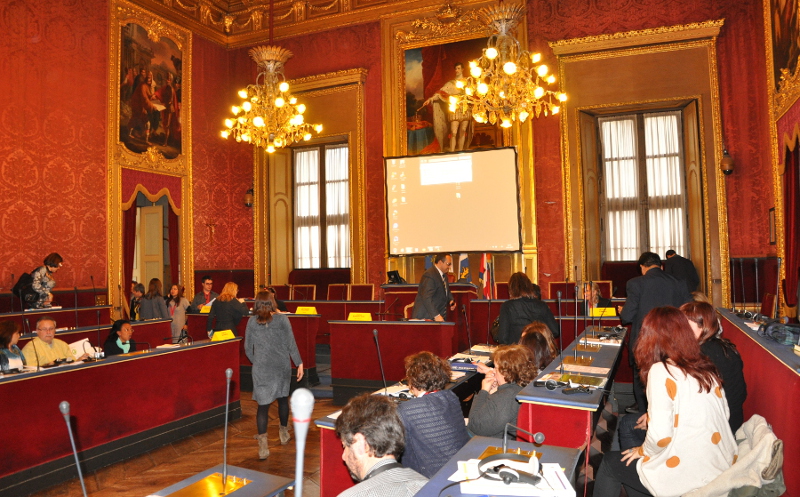 IAEC General Assembly in Turin
Representatives of 25 member cities participated last March 13th at the IAEC Ordinary General Assembly which took place in the Turin City Hall.
The Assembly opened with a lecture on The City as an educative ecosystem, by Mr. Andrea Gavosto, Director of the Giovanni Agnelli Foundation.
Later on, Prof. Egidio Dansero (University of Turin) moderated a Local Authorities Roundtable which joined the Councillor of Educational Policies of Turin, Ms Mariagrazia Pellerino, the Deputy Mayor of Social Cohesion and solidarity of Geneva, Ms Esther Alder, and the Deputy Secretary of Educational Planning of Medellin, Ms Gloria Figueroa. Speakers presented 3 good practices from their cities. Thus, the representative of Turin presented the programme Food, city and citizens, the representative of Geneva the Community Action Units and the one of Medellin the Life Articulated Units.
As soon as the roundtable finished, the Report on Activities and the Financial Report 2014, the Action Plan 2015 and the Budget 2016 were approved. Moreover, Rosario presented the 14th IAEC International Congress which will take place in 2016.
Before the General Assembly, the City of Turin offered a visit programme to innovative experiences to the participants of the General Assembly. There was also the opening of an exhibition of draws and designs of students of local educational centers showing their views on their city. Furthermore, there has been a meeting of the IAEC Executive Committee Meeting.

Pesquisa de Notícias
Por categoria
Por palavra-chave
Por data
Notícias recentes
Siga nosso canal oficial no Twitter