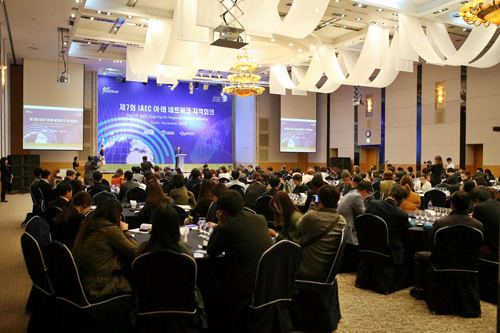 Gumi hosted the 7th Meeting of the IAEC Asia-Pacific Network
200 representatives of 20 member cities and organisations of the civil society attended to the 7th Meeting of the Asia-Pacific Network which took place in Gumi (Republic of Korea – Province of North Gyeongsang) last November 3rd and 4th under the theme "Educating Cities for Social Inclusion".
The opening of the Meeting had speeches by the Mayor of Gumi, Mr. Nam Yoo-Chin, the Deputy Mayor of the IAEC AP Network Chair City of Changwon, Mr. Park Jae-Hyun, the IAEC General Secretary, Ms. Marina Canals, and the Superintendent of the Bureau of Education of Gumi, Ms. Kim Jeong Sook.
As soon as the ceremony ended, the Director of the Lifelong Learning Institute of North Gyeongsang, gave a presentation on the theme of the Meeting followed by a plenary speech on the role of new technologies in the education of children and youth in social risk by the representative of the UNESCO Bureau for Asia-Pacific, Mr. Ichiro Miyazawa.
Furthermore, there was a presentation of good practices by representatives of the cities of Gumi, Changwon, Saha-gu and Suseong-gu. The day closed with a presentation of the activities of the IAEC Asia-Pacific Network and a presentation of the 14th IAEC Congress to be done in Rosario (Argentina) next June 2016.
The second day of the Meeting began with a keynote speech on lifelong learning and communication and closed with a planning working session of the member cities of the network.
Pesquisa de Notícias
Por categoria
Por palavra-chave
Por data
Notícias recentes
Siga nosso canal oficial no Twitter
Twitter feed is not available at the moment.