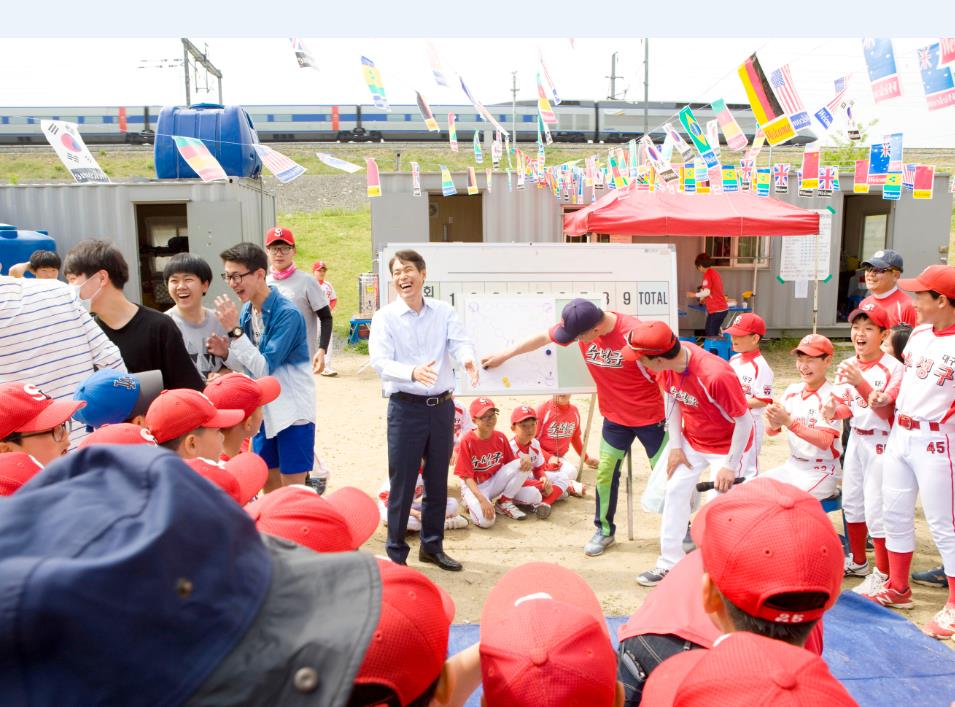 Interview with Mayor of Suseong-Gu, Mr. Jin Hoon Lee
Interviewed by the Association, the Mayor of Suseong-gu, Mr. Jin Hoon Lee describes the learning policies in the city and other initiatives put in place to foster a culture of leisure and social harmony.
Can you describe Suseong-gu?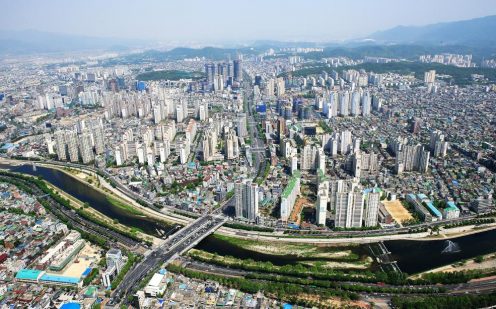 Suseong-gu is located in southeastern Korea. As all the key functions are integrated in the district including administration, education, medical services and finance, its advanced medical infrastructure provides high-quality medical service. Along with 34 elementary schools, 23 middle schools, 17 high schools and 1 special school, Suseong-gu is home to youth training centers for after-school and creative activites. The district hosts six public and other private lifelong learning centers for grownups. Public spaces and facilities are actively utilized for educational purposes and are made available to the citizenry at different times and locations. The district office is dedicated to creating an environment and culture in which citizens can make education a way of life. These efforts have been acknowledged as the district was ranked number one in the education satisfaction index and designated a Lifelong Learning City by the Ministry of Education in 2011. We now have two new strategies to pursue our future educating city. We are planning on expanding education in knowledge and technologies to  adapt quickly to the  Fourth Industrial Revolution, as well as galvanize our bond with the community and cooperation as attitudes that will enable us to understand the interconnectivity of the global village.
Suseong is a prosperous municipality with high quality education.
What percentage of the city budget is earmarked for education? Why is education important for you?
I believe educating cities should understand that education is transmitted to their citizens through different municipal areas, the environment, health care, safety, culture and sports. Thus, education can be included in all public policies standards in order to make them genuine. Various items in the city's budget are allocated to education for our citizens, making it difficult therefore to estimate the actual total amount earmarked for education. In 2012 the department of lifelong learning was created with a budget of 1.6% of the total (EUR 6,219,340) as at the end of October 2017. Moreover, we are improving the quality of informal education that supplements formal education, not only for young people but also for adults. Such education not only helps to enhance quality of life and create more jobs but also helps to adapt to social change. And people create community through learning activities. In addition, what makes education all the more important is that learning can impact the local community by sharing it with one another.
Suseong-gu joined the IAEC in 2011, what were its motivations?
I had been a civil servant for 34 years before becoming the Mayor, mostly in city administration and  various departments related to the environment, economy, culture, sports. I was also the director for tourism and the Deputy Secretary General for planning and management. I was elected Mayor in 2010. Based on my career path in the administration, I set the goal of the municipality to be a Leading City in Education and Culture in Korea, emphasizing citizen education as the transversal axis of policy. Suseong joined the IAEC in March 2011 to exchange information by networking with other educating cities. The Charter of Educating Cities was the biggest motivator behind joining the IAEC. On the surface, many could think that educating cities create an environment where all citizens have equal educational opportunities and quality education. But, beyond that, the Charter affirms the idea that education is related to all areas of the city and that cities that form part of the Association are interrelated for that reason. I found that very interesting as the IAEC is the world's oldest association that brings educating cities together under the umbrella of the Charter. Its regional network was of great appeal to us as well. Regional and cultural environments vary, and, accordingly, a best practice may be difficult to apply to another context, but the regional network provides a good forum to discuss and exchange ideas amongst cities that share similar cultures and contexts.
Suseong has several libraries and lifelong learning centers, you also provide singing classes for senior citizens that bring together hundreds of participants, how do you foster an interest in learning among the population?
Singing classes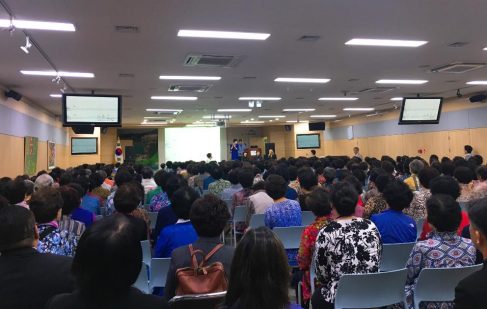 are held at an available municipal space  and three other places, three times a week, 300 ~ 400 participants per session. Most participants are in their 60s and older and consequently they have more free time now than at other times in their lives. They not only learn popular songs, but also share their lives and communicate with each other in a positive way. I believe people of all ages aspire to learn. Learning is their life. But, many of them do not know how to express this aspiration nor live a life without doing so. Therefore, it is important to create an environment in which people can express their hidden aspiration naturally. I have turned many city facilities and spaces into educational environments, making the municipality an immense school. We utilize idle municipal spaces as classrooms and as libraries, public health centers, community centers and social welfare facilities as schools. And I initiated policies to make it possible to use unused spaces in apartment complexes and neighborhood facilities as educational environments. And we provide residents with educational opportunities based on a survey of educational needs. We all want to learn, and the role of the city is to provide learning space to channel this aspiration and be happy. This is what will make Suseong an educating city.
How  do  residents  know  about  the  learning  opportunities  the  city  offers?
According to our survey on lifelong learning, the lack of  information is the main factor in hinder citizen use of reduces learning opportunities more than any other. Therefore, we set up a system to collect learning information and provide it through on/off-line channels in real time. Offline channels include the Lifelong Learning store, through a hot line, and the Suseong Newsletter, which is published every month to provide information. In addition, we opened a lifelong learning portal and created a smartphone application to offer information in real time. Citizens of all ages receive learning information through various channels, which helps motivate them to learn and take learning into their lives.  The recent data on the use of the information system shows that many people use our mobile app. The number of citizens who receive information through that app has increased with the widespread use of smartphones in Korea. The smartphone application has more accessible and faster than the other channels.
Suseong Lake is a unique place where citizens of all ages can walk, jog and enjoy cultural performances. Work is very important in Korean society, how do you also foster a culture of leisure?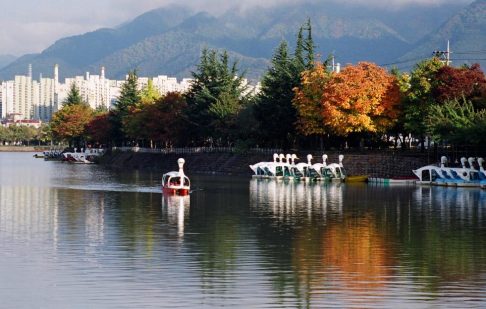 According to the OECD Employment Outlook 2017, Koreans worked 2,609 hours on average in 2016, 305 hours more than that OECD average. However, recently many policies have been implemented to support the work-family balance. They aim to promote a culture of leisure by utilizing city infrastructures, and the Suseongmot Lake Restoration Project is one of them. The lake has long been used for agricultural purposes. It was a place only for sightseeing. But, the concrete was removed from the lakeside and coarse sand was laid to make a walk path, along with boardwalks and new vegetation. The lake park has attracted families and shops have opened near the park, making it an ideal gathering place. There are more buskers now that there is a better performance support system. People enjoy walking and jogging and cultural performances. Urban space and the environment have huge influence on citizens. With the Broken Windows Theory in mind, I stress the management of the urban environment in order to promote leisure culture in Korea.
We live in an individualistic and consumer society, how can local authorities promote solidarity and a responsible sustainable life style?
Capitalism and neo-liberalism gave birth to individualism and materialism in the consumer society. Now countries around the world are striving to change this and are starting to understand interdependence and interconnectivity among regions and nations and are thinking about sustainability. Individuals unite to make a society. Therefore, people of similar thought unite to demonstrate a particular aspect of a society. I believe it is most imperative to change individual thinking in order to change the face of society. Politicians and administrators put forward various policies for a better life and society. And I believe education policy is the most sustainable of these. Nelson Mandela once said 'education is the strongest weapon to change the world we live in when it comes to changing people's awareness and action'. That was why I strongly emphasized the 'role of educating cities in the expansion of education for a global citizenry while hosting the 8th IAEC Asia Pacific Network Regional Conference. I believe educating cities should start thinking about what education should be provided to their citizens. The cities where individuals who through education have a sense of community, a feeling of being bound to each other and of responsibility; the more the better the future of our global community will be. Now the global world is suffering from war, terrorism, climate change and poverty. I believe only education can provide solutions to these challenges. That is why Suseong is training experts in education to create a global citizenry through formal, non-formal and informal education. Through education of this type, a less individualistic and consumerist community will be promoted, which will lead to major changes in society.
Can you provide some examples of how Suseong residents can put their knowledge into practice and participate in the improvement of their community?
I think the most imperative factor in changing a city sustainably is citizen commitment. The city should have a system where people can freely express their opinions.  I value the moments I can meet and talk to citizens in person. There have always been issues that can cause conflicts when implementing urban policy. And many times, you can talk through such conflicts and find solutions while listening to everyone. To solve problems you first have to find the cause and you never know without meeting with the citizenry involved first. Therefore, it is imperative to establish a communication system with people and the most important thing is that this system be used.  Even if the system is well established, it is of no use if people do not engage and express themselves freely. Fellowship and experience are the most important factors in citizen participation. You can do better when you work as a team than when working alone. You can build up trust by working together. In Suseong, people are encouraged to participate in a study circles in which anyone can discuss and learn about their common interests. The study circles are supported by providing them with space and funding that foster self-learning for excellence. The sponsored study circle is required to donate talent to the community even after the project is over. The study circle is a group of people who aspire to learn and having their knowledge impact the community. Creating and supporting this system is also a key role for the city.
We assume that Suseong has a significant number of international residents. What initiatives do you put into action to foster social harmony?
When you go to a new place you probably look for the information desk first. People of various nationalities live in Suseong for many reasons. Suseong's information centre, like an information desk, is the face of the city, and that is why it is important, as the centre provides information for foreigners. On the other hand, the city hall has an information desk for foreigners and a team of volunteers who give services in many languages during opening hours, which includes sundry information and municipal administrative services. The Multicultural Family Center is also of special note. The center provides Korean language and culture classes at the district library as well as vocational training and job-finding aid for foreign residents. Foreign residents can also make cultural exchanges with local residents at the center. We do not separate foreign residents from locals in providing services, but help them with overcome the language barriers and other possible problems.
Your city organized the 8th IAEC Asia Pacific Regional Conference; can you share with the IAEC members three main ideas that came out of this meeting?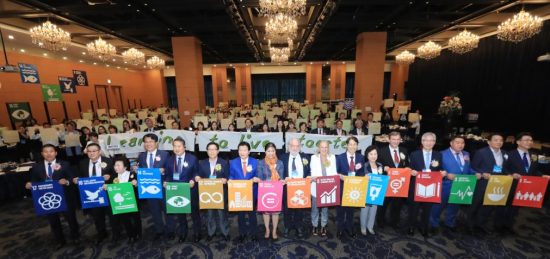 It was very satisfying to host the 8th IAEC Asia Pacific Regional Conference. It was all the more meaningful, if possible, as the educating cities of the Asia Pacific Region met and adopted the 'Suseong Joint Declaration on Education for a Global Citizenry'. I would like to share three important ideas with educating cities as the host city. First, understanding the concept of interconnectivity. The member cities strive individually to implement the Charter of Educating Cities. It's time to think about establishing synergies among cities. The conference played an important role in sharing individual efforts and reaching a common agreement. Secondly, understanding diversity. I saw cultural differences while hosting a one-day, two-evening conference with distinguished guests from around the world. I think there is no hierarchy among the cultures of different nations and cities. At the conference people felt, understood and reflected on cultural diversity. I hope this individual consideration will transcend society and nation. Thirdly, confidence in the power solidarity. 13 Mayors of Asia Pacific cities participated in the conference and shared opinions on education for a global citizenry. I believe the conference was the start of this solidarity. Our now duty is to put into practice what we agreed amongst our cities until the next conference is held. Suseong implements various policies for disseminating the idea of education for a global citizenry. I hope we can share best practices and feedback when we meet again in two years. Suseong hosted the 8th Asia Pacific Regional Conference seven years after joining IAEC in 2011.
Residents of Suseong felt pride in their city as an educating city and through the conference had a good chance to appreciate that learning activities and community activities are very meaningful. I believe it is important to involve local residents in such events. I was deeply moved that groups of women who involved in education for a global citizenry contributed 300 recyclable bags made with second-hand jeans. Many study circles participated in the event with translation services, performances and providing staff. The greatest achievement was that the conference involved the residents of Suseong, which is what made me feel the proudest.
Pesquisa de Notícias
Por categoria
Por palavra-chave
Por data
Siga nosso canal oficial no Twitter