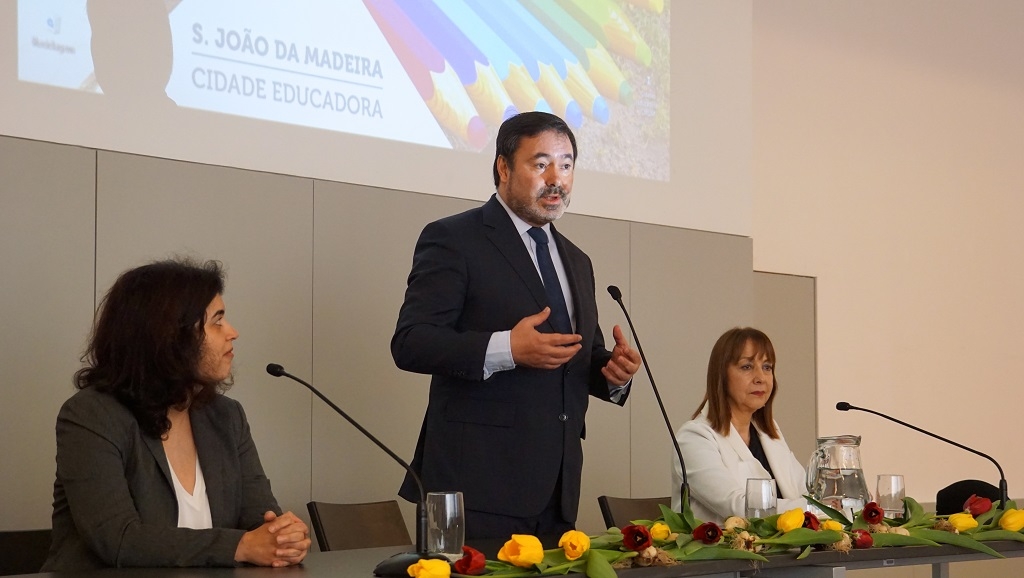 Meeting of the Portuguese Network (RTPCE) in São João da Madeira
Over 56 educating cities, represented by 140 mayors and political and technical delegates participated in the Meeting which took place on 8 February.
The Mayor of S. João da Madeira, Mr. Jorge Vultos, the Councillor for Education, Ms. Irene Guimarães and Lagoa's Councillor for Education, Ms. Ana Martins -representing the Portuguese Nework' Coordination Committee- opened the Meeting. Mr. Vultos welcomed the attendants and stated that education should be the main priority of all political actors.
After this session, the city of S. João da Madeira organised study visits to the Hat Museum and the Shoe Museum, which describe the industrial background of the city, and the Oliva Art Exhibition -exhibition center created in 2013-, located in one of the most symbolic former industrial buildings of the city.
In the afternoon, the RTPCE met and approved unanimously approved the network's 2018 report on activities and the 2019 action plan.
The new Coordination Committe for the period 2019-2020 was elected, with the following composition: Almada, Loulé, Odemira, Torres Vedras and Vila Nova de Famalicão (elected members), and Lisbon -Portuguese network representative- and Lagoa do Algarve -organising city of the 8th National Congress of Educating Cities-. 14 candidatures were received to cover 5 vacant slots
To conclude, participants were informed on the next IAEC General Assembly and the forthcoming National Congress, which will take place on 15-18 May 2019.
The next Meeting of the Portuguese network will take place in Lagoa during the month of May.
News Search
By category
By keyword
By date